In case you missed it, you can read part 1 of Debi Scissorhands
HERE
and part 2
HERE.
As of last week, I had not heard from Debi Scissorhands and I was getting worried because 43 days had gone by since I had last heard from her! I emailed her and asked her what the status was on my dress. She wrote back that the dress was
"fine"
.....
hmmm...fine??
That isn't what I wanted to hear...so I wrote back asking her if the dress was done and if so, could I come and try it on? She wrote back that the dress was not done, but she could
"get it done"
and that I could come over on Monday. I was a little worried that she was going to rush to get it done.
So Monday Joe and I went over to Debi's....I stepped into the entrance of her apartment building and climbed the stairs to the second floor. I reached my hand up to knock on the door but before my hand touched the distressed door, it magically opened and Debi was standing there smiling and ushered us into her home.
Right this way
.....I walked around the corner and there was my dress hanging on the door jam as Debi was finishing steaming the wrinkles away.
There you be....let me know when you are ready....she said.
I looked up at the dress and it looked like a whole different dress. I almost forgot what it originally looked like!!
I slipped off my shorts and shirt....slipped the dress on....then I slide my shoes on...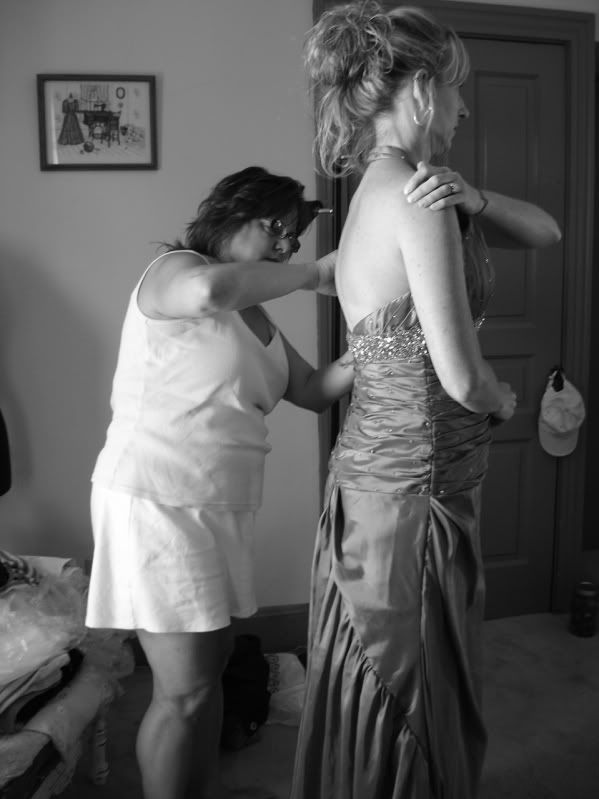 Joe pulled the zipper up for me...
I twirled around to look at myself in the mirror...
It looked...
Perfect...
Well almost perfect...
It was a bit loose at the neck line....
I called for Debi to come it...
She appeared instantly like magic...
I said that it was loose at the neck line....
no problem! Come back tomorrow and it will be all ready!
I said that I had to work, but Joe could come and pick it up. She said she would have it ready.
The next day Joe went over to pick it up...paid her the remaining balance and she handed him my dress.
He text me at work telling me that he picked up the dress.
I couldn't wait to get home and try it on!
When I got home, I ran right upstairs so I could try it on.
Perfect...
Just perfect....
And to think I was worried...
Now I just hope it fits the same a month from now!
Its hard to believe my son....my baby...is getting married....in one Month!
The rehearsal dinner is all planned...
Invitations are sent:
In 29 days....
I will be a Mother-In-Law!